I was going through my stuff again--trying to find an old digital camera I
know
had some pictures in it--when I found something I
do
remember from my childhood. I mean, it's not like it's a definite reminder of my existence, it could belong to anybody, but it felt good to find it again.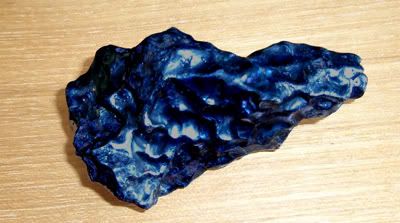 My parents gave it to me when I was a kid. I'm not sure where they got it. Maybe they found it, or maybe one of their parents gave it to them; it doesn't really matter. There was a box, too, but I haven't found it yet.
I remember playing with this thing when I was a kid, actually. I mean, it's a
rock
, it doesn't do much, but it's a pretty cool-looking rock, you have to admit. I used to pretend it was a magic rock, like a fairy gave it to me or it came from another world and it had special powers. Or it let me have special powers. I don't really remember. I do remember that my parents didn't like it when I threw it at things, but it never actually broke, so maybe they didn't need to worry. I called it a sum-runner, I think. Not sure why. Maybe I got the name out of a movie or something.
Last night I dreamed I
was
somebody. The website in the ad didn't say anything about that--it just wanted to know if you dreamed about cities. Well,
a
city. I think my person lived there, but I can't remember what she looked like, or what her name was. Mostly she seemed kind of bored.
I have to say, if I'm going to have weird dreams, dreaming about being bored isn't high on the list.
I think I might get fired soon. I had to remind my boss to send my paycheck--she said it just slipped her mind--and the other day she called me in to talk about customer complaints. What could I tell her? "No, I really did take their orders, they just forgot. All of them." On the other hand, I think most of the annoyed people forget why they were annoyed in the first place, so probably it's not as bad as it could be. Still, it doesn't look good. What if I come in tomorrow and nobody remembers I work there at all?